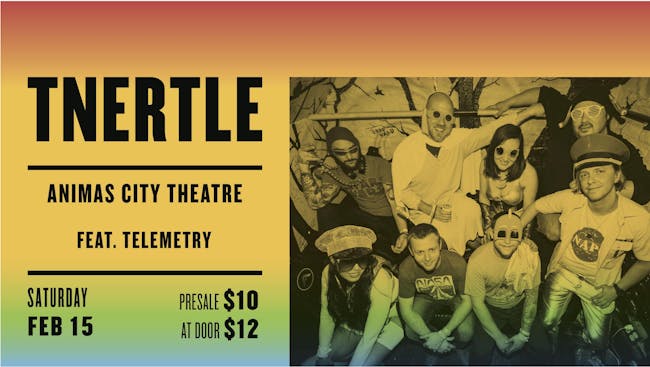 Tnertle
Telemetry
The Animas City Theatre - Music
$10.00 - $12.00
Tickets At The Door
Tnertle with special guest Telemetry
Tickets available at Animas City Theatre, Animas Trading Company, and online at www.animascitytheatre.com
Dance floor standing room only
Balcony Limited seating first come first serve
TNERTLE
https://www.tnertle.com
https://www.facebook.com/tnertlemusic
https://www.soundcloud.com/tnertle
TNERTLE is a Denver-based electro/funk/hiphop group consisting of Trent Campbell (Midi Controllers, Bass), Kyle Ayervais (Drums), Leah Concialdi (Sax), Alice Hansen (Trumpet), Jon Kenney (Trombone), Ty Hughes (Gtr), and Ray Salazar (MC).
In 1999, Trent and Kyle met in their 7th grade jazz band. Playing together in rock bands all the way to their senior year of high school, Trent and Kyle decided to head to Boston to study at Berklee College of Music. In 2012, Trent and Kyle formed TNERTLE out of the inspiration to create original music and have fun. Most recently, the duo have added a horn section and guitars and frequent appearances by guest vocalists and instrumentalists. You will hear everything from Electro, Hip-hop, Reggae, Funk and lots of in betweens.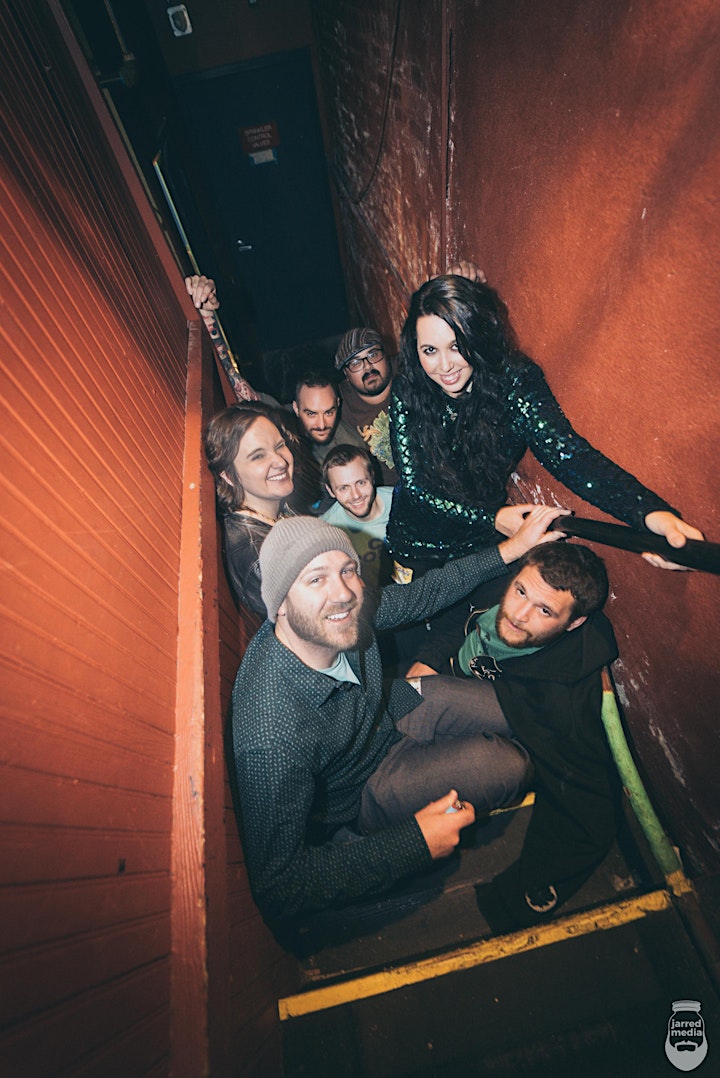 https://www.telemetrylive.co
https://www.facebook.com/telemetrytunes
Telemetry Bio
"Let Telemetry take you on a journey through space-inspired jams during your next party for an unforgettable night... Their sound has just the right mix of danceable beats and psychedelic explorations - a paradisiac cocktail of sound sure to send you to outer space."
(303 Magazine, Ellie Herring)
Telemetry has shared the stage with national and international artists like; Griz, ExMag, Perpetual Groove, The Werks, An-ten-nae, Casual Commander (of Sunsquabi), Supervision, Octave Cat (members of Lotus & Dopapod), Blockhead, Homemade Spaceship and many more. Telemetry is a live electronic band based in Denver, Co. The trio mixes house, breakbeat, DnB, mid-tempo, jazz and Jam to create an epic wall of sound and dance party. They were just announced on the massive Phase 1 line up of Sonic Bloom 2019, with many more big announcements to follow for 2019. Telemetry has played some of Colorado's most reputable venues and festivals such as; The Bluebird, Cervantes Masterpiece Ballroom, Hodi's Hideout, Globe Hall, Arise Music Festival, Larimer Lounge, Winter Werkout Festival and multiple mountain towns. The group has released two albums in the last 3 years on multiple platforms including; iTunes, Spotify, Soundcloud, BandCamp and more, with great online feedback/presence.
@Telem3try on Instagram www.instagram.com/Telem3try
www.soundcloud.com/TelemetryTunes.com
Venue Information:
The Animas City Theatre - Music
128 E College Drive
Durango, CO, 81301