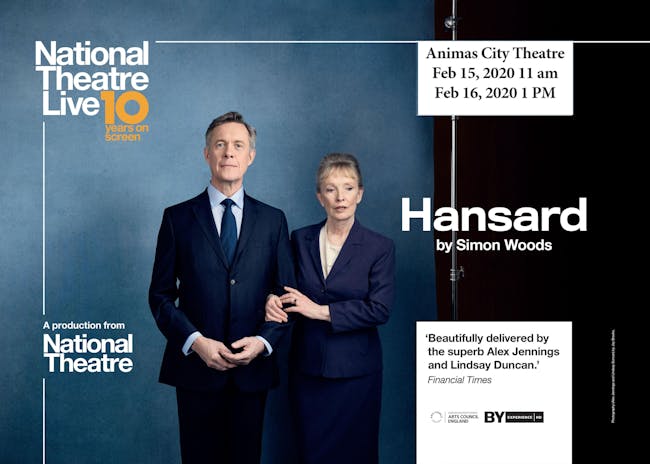 NTLIVE: HANSARD
Animas City Theatre - Movies
$14.00 - $18.00
Tickets At The Door
On Animas City Theatre
Hansard a new play by Simon Woods a National Theatre production
Hansard; noun
The official report of all parliamentary debates.
See Olivier Award-winners, Lindsay Duncan (Birdman, About Time) and Alex Jennings (The Lady in the Van, The Queen), in this brand new play from Simon Woods, broadcast live from the National Theatre in London.
It's a summer's morning in 1988 and Tory politician Robin Hesketh has returned home to the idyllic Cotswold house he shares with his wife of 30 years, Diana. But all is not as blissful as it seems. Diana has a stinking hangover, a fox is destroying the garden, and secrets are being dug up all over the place. As the day draws on, what starts as gentle ribbing and the familiar rhythms of marital scrapping quickly turns to blood-sport.
Don't miss this witty and devastating portrait of the governing class, directed by Simon Godwin (NT Live: Antony & Cleopatra, Twelfth Night) and part of National Theatre Live's 10th birthday season.
What is NTLive?
The best of British theatre. On a cinema screen near you.
National Theatre Live brings the best of British theatre to cinema screens all over the UK and beyond, from Tokyo to San Francisco.
With state-of-the-art filming techniques, tailored to every play, we bring you each performance as it happens, in all its glory. From close-ups that capture every flicker of emotion, to sweeping wide shots of the stage.
Whether you come along to the live broadcast, or catch one of many replays, you'll have the best seats in the house.
And you'll be part of something much bigger. There'll be thousands of others all around the world watching along with you. Sharing every gasp, every laugh, every dramatic moment.
This is theatre for everyone.
Ten years on screen
National Theatre Live launched on 25 June 2009 with a broadcast of the National Theatre production of Phèdre with Helen Mirren to 70 cinemas in the UK and 200 internationally. Ten years later, we've released more than 80 live broadcasts of the best British plays from stages across the UK and have been watched by nearly nine million people around the world.
In 2019, you can find our broadcasts in 2,500 venues across 65 different territories, including approximately 700 venues in the UK alone.
Broadcasts from the National Theatre have included Stephen Sondheim's musical spectacular Follies featuring Imelda Staunton, Antony & Cleopatra featuring Sophie Okonedo and Ralph Fiennes, Danny Boyle's Frankenstein with Benedict Cumberbatch and Jonny Lee Miller; and Amadeus with Lucian Msamati.
Broadcasts from other UK theatres have included Coriolanus from the Donmar Warehouse, A Streetcar Named Desire from the Young Vic, The Madness of George III from Nottingham Playhouse, and the Chichester Festival Theatre production of King Lear and Playful Productions' The Audience from London's West End.
Our biggest broadcast to date is Hamlet, with Benedict Cumberbatch in the title role. Broadcast live from the Barbican in 2015, this broadcast has now been seen by over one million people around the world.
Join us as we celebrate our tenth birthday with a season of smash-hit plays from the National Theatre's stages and beyond.
How we do it
Each of our broadcasts is filmed in front of a live theatre audience. The position of cameras in the theatre is tailored to each play, to ensure that audiences watching in the cinema always get the best seat in the house.

Via satellite we broadcast the live performance from the theatre we are in to cinemas across the UK, as well as many European cinemas. Our cinema partners in North America capture the live broadcast feed via satellite and screen the titles on the same day, at a customer friendly evening time in their local time zone.

The live footage from the broadcast is then packaged and shared, unedited, with cinemas for repeat encore screenings in international territories not able to screen it live, or with cinemas wishing to relive the glory. There is little or no difference between what you see in the live broadcast and a repeat encore screening.

Venue Information:
Animas City Theatre - Movies
128 E College Dr
Durango, CO, 81301